Acatamiento: Holding Compassionate Awe Through Our Workforce Readiness Program
In 1544, Saint Ignatius of Loyola, the Founder of the Jesuits, entered a word in his spiritual journal and proceeded to use it for the remainder of his life: 
Acatamiento.
It's a word that stuck with Father Greg Boyle, founder of Homeboy Industries, the largest gang rehabilitation and intervention program in Los Angeles. 
Having recently joined us as a speaker during our fundraising event at the University of St. Thomas Opus College of Business, Father Greg (or Father G, as he's affectionately called) explained that the word "acatamiento" meant, "to have compassionate awe" for another person. 
"I know Spanish, but I had never heard this word before," says Father G. "I'm sure this was born of a mystical moment with his God… But [Saint Ignatius applied it to the] world. And that's what I think we are invited to do."
Father G shared his belief that a healthy community starts when people stand in awe of what others have to carry — and not judge how they carry it.
At Repowered, we couldn't agree more. 
Repowered's Workforce Readiness Program 
We work to practice "acatamiento" every day through our Workforce Readiness Program, holding compassionate awe and attention for people who've faced the challenge of incarceration, and now must face barriers to living wage employment. 
Through this program, we invest in these individuals by providing living wage employment, resources for job growth, and the confidence they need to move forward. In doing so, we at Repowered stand by our belief in fair chances — and the knowledge that we are not defined by our pasts, but by our commitment to a better future. 
The fundraiser highlighted the amazing results of Repowered's Workforce Readiness Program through real stories of Repowered's recent "Graduates." Jennifer is one such person, and she joined us at the fundraiser to share her awe-inspiring story.
Jennifer's Story: Life Changes in an Instant
In December of 2014, Jennifer experienced a nearly fatal car accident that altered the course of her life forever. The accident shattered every bone in her face, and she also suffered a traumatic brain injury. 
In her recovery, Jennifer began the long, difficult process of relearning how to walk, talk, and write. During this process, however, Jennifer lost her support system. So, not only was she in unimaginable pain, but she was also alone and more vulnerable than she'd ever been. 
It wasn't long before Jennifer became addicted to painkillers — a story shared by many in this country today.
Jennifer then met a man who introduced her to methamphetamines. The relationship quickly became toxic, and the man became abusive. Jennifer ultimately made choices that resulted in a 65 month sentence for first-degree possession of methamphetamine and second-degree arson. 
At the Shakopee Women's Correctional Facility, Jennifer served her time. As for after her sentence, though, Jennifer felt that her hopes for a normal life post-incarceration were slim to none. She was convinced that the nature of her charges would keep her from finding housing or living-wage work. 
Then she found Repowered. 
From Pain To Power
Just a week out of the Correctional Facility, Jennifer joined our Workforce Readiness Program and began working in the Repowered warehouse sorting electronics.
"Not only did these people not judge me," Jennifer shared during her talk at the fundraiser, "but they accepted me with the widest, most open arms."
But Jennifer's trials were not yet over — three months into her employment with Repowered, Jennifer developed Tendonitis, an inflammation of tendons that connect muscle to bone. This condition made it very difficult for Jennifer to continue to work, and Jennifer was ready to give up hope. 
But Repowered wasn't going to let Jennifer go that easily! Our Program Director quickly found other work to keep Jennifer in the program. She was given a variety of office tasks that were less physically demanding, including fulfilling a role as an HR Assistant. 
As it turned out: "They needed my organizational skills badly," Jennifer laughed.
Moving from the warehouse to our office as Office Admin, Jennifer grew into her role, quickly ascending to Repowered's HR & Payroll Specialist. Though she knew it was going to be a challenge, with the encouragement and support from the Repowered team, she knew she could do it.
"I gave up on me," Jennifer shared. "But Repowered didn't."
Since taking on her new role, Jennifer has contributed positive, meaningful changes to Repowered. She implemented a new, more efficient payroll system, took on accounting duties, and spearheaded the enormous effort of getting our Workforce Readiness employees full-time benefits.
We are in awe of Jennifer and all that she has carried.
How You Can Practice Acatamiento With Repowered
This year, we invite you to join us in our practice "acatamiento," by considering making a donation to support our Workforce Readiness Program. By supporting this program, your gift helps ensure a fair chance for individuals exiting incarceration.
"We stand with the demonized so the demonizing will stop," says Father G. "We stand with the disposable so that the day will come when we stop throwing people away. That's what Repowered does."
In 2023, we are working to raise $366,750. Please consider a gift that stands in awe of what people have to carry, rather than judgment at how they carry it. Your gift to Repowered is matched by earned income from our recycling business. Below are the tiers of donation: 
Get Hope – $22
Remove barriers to employment. This investment supports an hour on the job for one of our Workforce Readiness Employees. 
Grow Hope – $56
Increase earning capacity. This investment supports professional growth and development for one of our Workforce Readiness Employees. 
Live Hope – $127
Empower self-efficacy. This investment creates opportunities for our work/life navigator to connect Workforce Readiness Employees with fair chance employers post-graduation.
INVEST IN HOPE TODAY!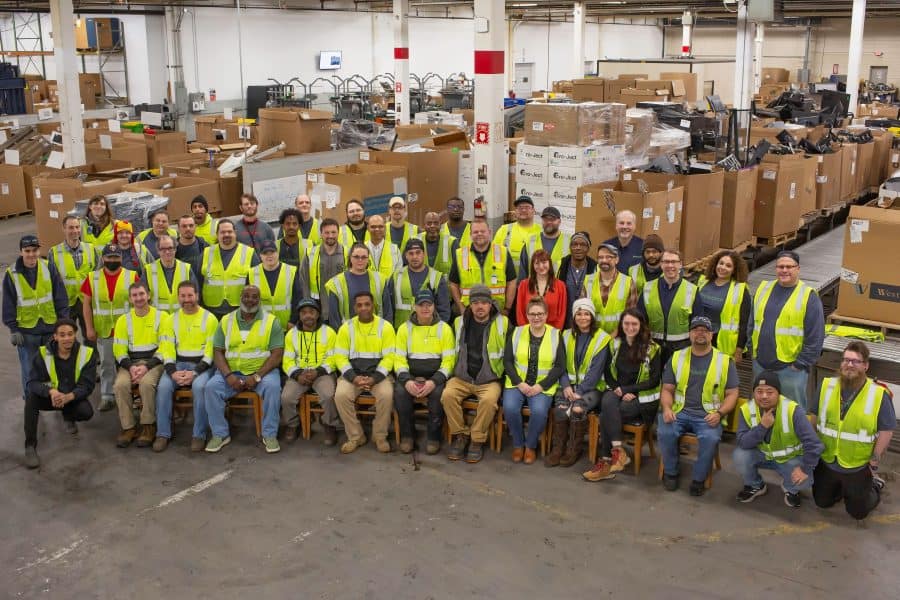 If you have questions or want to learn more about our Workforce Readiness Program and its social impact, please reach out to us at (763) 432-3117. Thank you in advance for your generosity, and your willingness to move forward with "acatamiento" for your community members. Stand in awe of what people carry and invest in hope today!