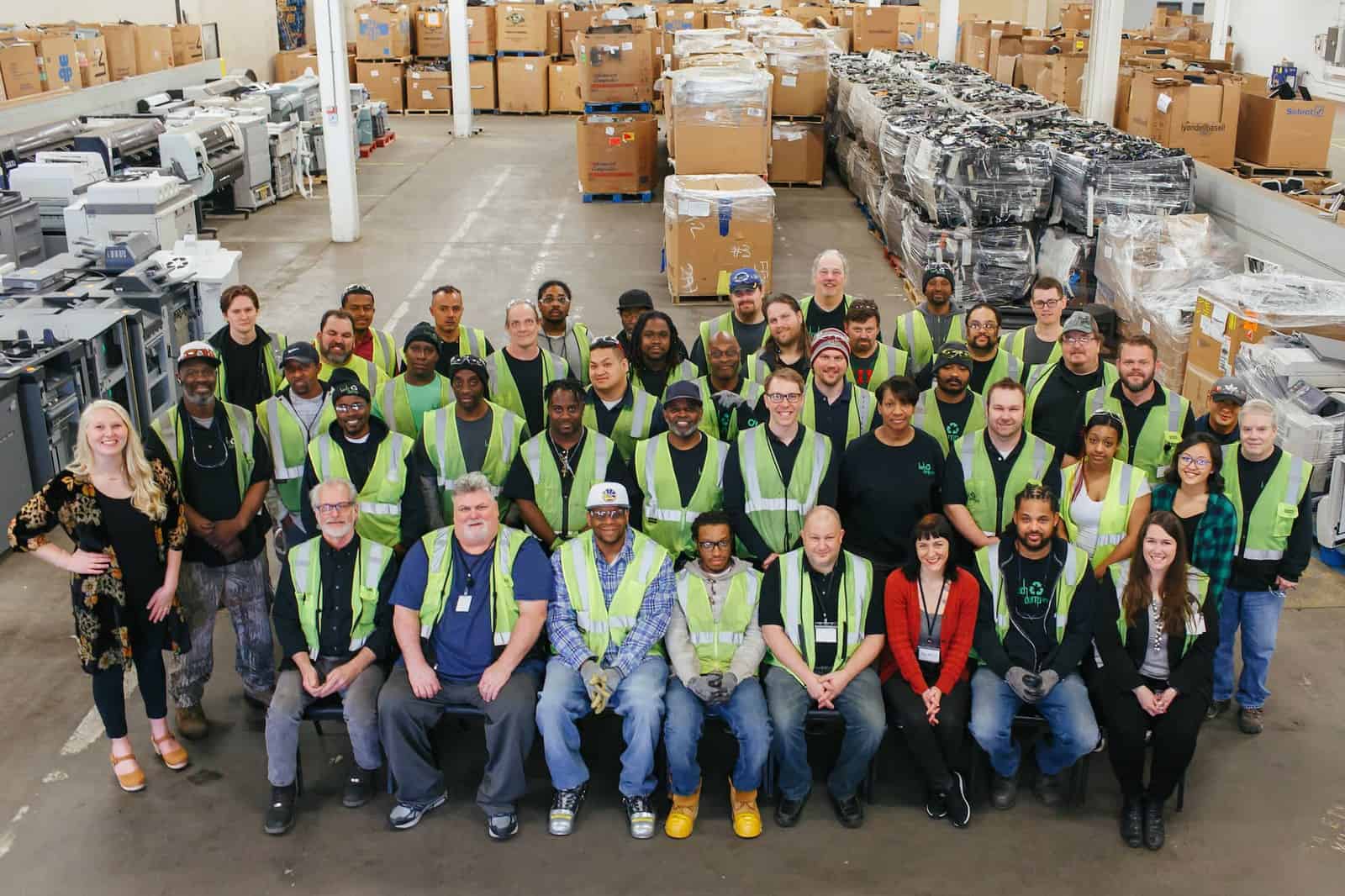 From our CEO, Amanda LaGrange:
As I'm sure many of you are doing, I am having a lot of thoughts, feelings, and memories as we approach the one-year mark of COVID 's impact on our day-to-day life. At Tech Dump and Tech Discounts we're also now planning for our future.
March 27, 2019 was an amazing day–we welcomed in a large crowd to help celebrate our expansion and move into our new HQ in St. Paul's Midway neighborhood, complete with Mayor Carter proclaiming it "Tech Dump Day."
Flash forward one year, and on March 27, 2020, we held our last in-person all-org morning meeting. As we gathered one last time before the shutdown and did our best to celebrate Tech Dump Day with new team t-shirts, I felt moved to remind our team that our founding in 2010 happened during a time of economic challenge and that we would navigate these uncertain times.
This is one of the only moments I can think of where I choked up in front of our team, as I announced to them that when we reopened after the shutdown, I knew we would come back stronger than ever. I meant it, but I didn't know exactly what that might look like.
Today, I can say that without a doubt, Tech Dump and Tech Discounts are indeed stronger than ever. And, look out — we have some more exciting growing to do!
Our team came back together on May 4, 2020 (masks on!), prepared to receive record amounts of electronic weight from the community's "quarantine cleaning." We quickly moved to offer curbside pickup at our retail stores and a mail-in option for recycling. And then, we started preparing laptops for Ramsey County's TechPaks project, a collaborative and innovative project that helped us envision even broader work to get refurbished tech items to people who lack access. We made a difference to over 700 individuals in a short amount of time and the ripple effect of that work continues to grow. You can read about that social and environmental impact here.
Throughout the challenges 2020 brought us, we saw time and time again just how relevant and necessary our work at Tech Dump and Tech Discounts is to our community. This is evident in our role as a job creator for individuals often overlooked due to a history of incarceration. It's also so clear that our work as an electronics processor for individuals and companies' IT assets, as a reseller of quality, refurbished tech, has significant social and environmental outcomes. All year, there was much to be done, on many fronts, and despite the hurdles, we were ready.
We are currently deep in the work to secure growth capital in order to double in size by 2025 so that we 'll be able to meet the need for paid employment opportunities, IT asset disposition, and refurbished technology.
Here's where you come in. We want you to be a part of our growth journey. We need you to achieve the scale our community is asking from us. Contact us today to meet with our team to discuss what that can look like.