Repowered by the Numbers: A 2022 Recap
As the year comes to a close, we'd like to take a moment to reflect on the impact our work (and your partnership with us!) has had this year. Here are a few highlights of what we've accomplished in 2022.
2,704,348 Pounds of E-Waste Recycled 
Yep, you read that right—we recycled 2.7 million pounds of e-waste this year alone! 🤯 And in October, we surpassed a total of 40 million pounds of e-waste recycled over the 11 years we've been in business. When we opened our doors in 2011, such an accomplishment was only a dream. It's so gratifying to see it becoming reality!
But apart from our own satisfaction, there's a reason we do this work: we do it for the planet. E-waste is the world's fastest-growing waste stream, with 53.6 million metric tons generated worldwide in 2020 alone. And it has devastating effects on our environment. 
The electronics we use everyday contain toxic materials, including heavy metals like lead, mercury, and cadmium, as well as PVC plastic and a number of hazardous chemicals. In a landfill, these toxic substances contaminate habitats and leach into groundwater, affecting humans, animals, and plant life.
Plus, e-waste in landfills isn't just bad for the environment—it's also a waste of valuable resources. Electronic devices are built using high-value elements like gold, silver, copper, platinum, lithium, and cobalt…all of which can be reclaimed and reused through recycling.
10,337 Pounds of Christmas Lights Recycled 
Did you know we recycle more than computers and cell phones? It's true! In fact, we take just about anything with a cord or battery…including Christmas lights! 
We'll take household appliances, batteries, landline phones, smoke detectors, and more. Here's a partial list of items we take for recycling (and a few things we can't take). If you need to recycle something beyond this list, contact us to see if we can take it.
To drop off your items for recycling, stop by one of these locations:
Saint Paul
860 Vandalia St, St. Paul, MN 55114
651-350-3764
Recycling Drop-off Hours
M-F 8:30am-4:30pm
2nd & 4th Sat 9am-1pm
Golden Valley
825 Boone Avenue N, #100, Golden Valley, MN 55427
763-548-2202
Recycling Drop-off Hours
M-F 9am-5pm
2nd & 4th Sat 9am-1pm
694 ITAD Customers
In 2022, we had 694 IT Asset Disposition partners, and a total of 1554 business pickups!
Repowered is committed to the highest industry standards for ITAD, and we're proud to be NAID® AAA and R2 Certified. When you entrust your asset disposition to us, we'll customize an asset management plan that meets your corporate objectives and keeps you fully compliant. 
Our secure data sanitization and destruction process is continually tested and audited to guarantee your data remains confidential and recycled components are processed responsibly. 
Whether you're upgrading your company's IT equipment, moving, or downsizing, we'll work to make the asset disposition process as straightforward and convenient as possible. To save time, take advantage of our onsite pickups for businesses (learn more here).
45,417 Refurbished Tech Items Sold
Through refurbishing and selling used tech, we bring new life to old electronics while providing affordable devices to our community. 
Refurbished devices are not only less expensive, they're also extremely reliable. All of the refurbished electronics we sell are tested and certified—in many cases they go through more rigorous testing than new devices do! 
Plus, refurbishing used electronics helps:
Reduce our reliance on core minerals and plastics

Reduce air and water pollution

Lower our carbon footprint

Fuel a

circular economy
In addition, refurbished electronics allow you to buy the tech you need at a lower price, so you'll spend less for the same quality, giving you better value for your money.
To shop for refurbished tech, you can shop in person from 10-6 Tues-Sat at either of our locations (listed above) or online at https://getrepowered.org/shop.
56 People Hired Through Our Work Readiness Program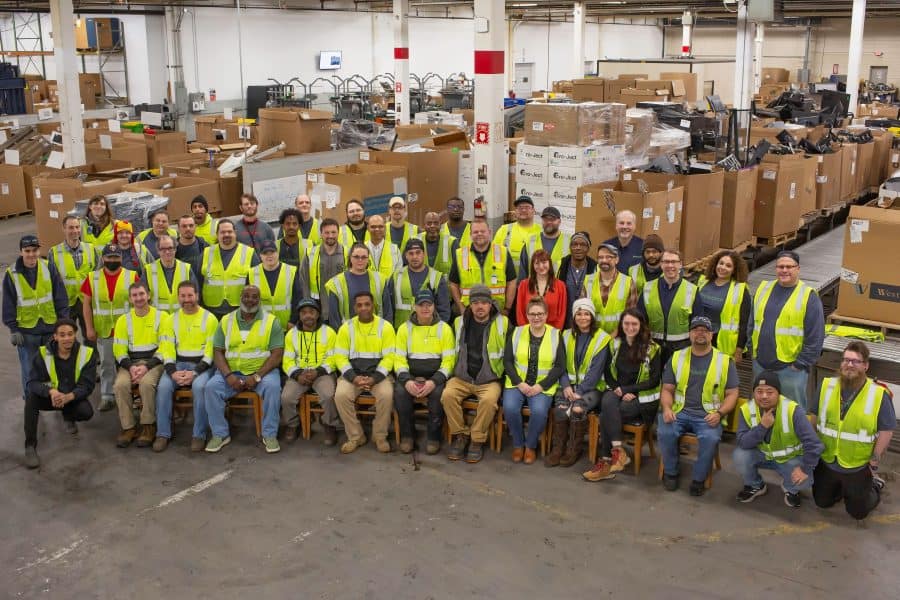 In addition to the work we do to refurbish and recycle electronics, Repowered also has a social mission. Every time you do business with us, you support our Work Readiness Program. 
In this program, we work with folks who have a history of incarceration and other barriers to employment that make it difficult to find work that pays a living wage. 
The work readiness program helps prepare them for re-entering the work world with time management skills, base level certifications (such as digital literacy), and more. We also help with essentials like résumé prep and interview coaching to give them what they need to find work.
This year, we saw 56 people hired through the program! We also had 40 digital literacy grads, and 31 work readiness employees passed the NAID certification test. We're incredibly proud of the impact our work readiness program has had so far, and are looking forward to many more years of empowering people through this important program. 
A Successful Rebrand
This year also saw big changes for us in the form of a rebrand! We combined the two arms of our business—Tech Dump and Tech Discounts—into a single seamless recycling, partnering, and shopping experience under a new name: Repowered.
Our new name provides a more accurate reflection of our mission and values, and showcases the immense capabilities we offer for people, planet, and technology.
To be a part of supporting Repowered's ongoing mission to provide fair chances for people, the planet, and technology, browse our electronics recycling and ITAD services on our website, shop our online store, or visit one of our retail locations. Questions? Give us a call at 612-260-9427.