Second Chance Month: Why Fair Chances Are So Important
April is Second Chance Month, a month set aside to highlight the importance of helping formerly incarcerated people reenter society. At Repowered, we believe strongly in the power of fair chances—for people and for electronics.
In celebration of Second Chance Month, let's look at the ways Repowered offers fair chances to people and technology, and how you can be a part of it.
At Repowered, We Celebrate Second Chance Month All Year Through Fair Chances for People and Technology
We take second chances to heart at Repowered, where every month is Second Chance Month. 
However, we also recognize that so many people need more than two chances in their lives. That's why, even though it's officially "Second Chance Month," we prefer to use the term "fair chance."
Each year, we offer fair chances to people by providing hundreds of thousands of employment hours and nearly a million dollars in wages to individuals with barriers to employment.
You might wonder what this has to do with refurbished electronics. Well, at Repowered, we're in the business of giving fair chances in more ways than one.
In addition to giving formerly incarcerated people another chance at a career, we work to give used electronics a second life by recycling them or refurbishing and reselling them. When you recycle your used tech with Repowered or purchase refurbished electronics from us, you help us provide job training through our Work Readiness Program.
In short, Repowered helps provide fair chances for both people and electronics.
Fair Chances for People: A Little About Our Work Readiness Program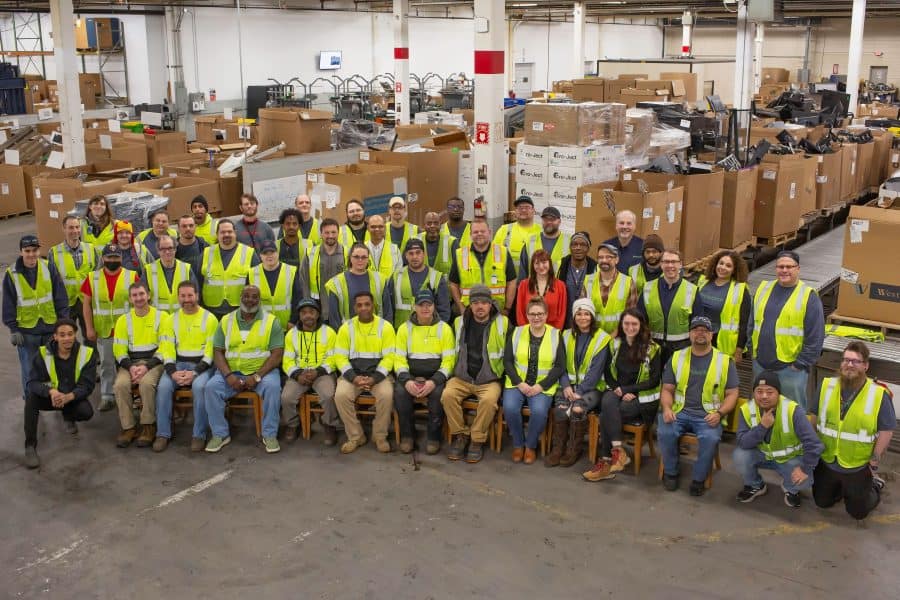 At Repowered, we believe that everything and everyone has value. That's why we created our Work Readiness Program. 
Through this program, we work with individuals who have a history of incarceration or other barriers to employment. Many of the people we work with have experience in the criminal legal system or are in recovery from addiction and have a difficult time finding living wage employment.
Our program has three main goals:
Increase the earning power of participants

Remove barriers to employment, including transportation, housing, and childcare

Help participants grow self-efficacy and the belief that they have some control over their circumstances
The Work Readiness Program consists of two phases, lasting a total of up to 18 months:
Phase I 
This phase lasts 90 days (equivalent to about 500 hours of employment). This phase involves a lot of what we call "rebuilding the work muscle" and reacclimating to the 9-5 experience: building time management skills, obtaining base level certifications (like digital literacy), and so on. We also pair participants with our coaches during this phase.
Phase II 
Phase II can take up to 15 months. After the first 90 days, participants can choose whether to pursue outside employment or stay on with Repowered. Folks who choose to stay continue working with us within the support structure and environment we provide.
Once someone reaches the 1-year mark (or a little after), we'll start working with them to determine if they're going to stay on with us as a staff employee or look for external employment. If they decide to look externally, we'll help with résumé preparation, interview coaching, and more to make sure they don't have a lapse in employment.
This program helps give a fair chance to individuals experiencing barriers to employment…not to mention bringing some amazing employees back into the job market!
Second Chances for Electronics: Recycling and Refurbishing Electronics
There are two main ways that Repowered gives used electronics a second chance: 
1. Refurbishing and Reselling Electronics That Still Have Some Life Left in Them
When you bring your used electronics to Repowered, we'll determine if they can be refurbished or not. If they can be refurbished, we'll do so, then make them available for resale on our website and in our brick and mortar locations. 
Not only does refurbished tech give electronics a second life and contribute to a circular economy, it also helps bridge the digital divide, putting needed electronics in the hands of those who may not otherwise be able to afford them.
Have you considered buying refurbished electronics the next time you need new tech? If not, maybe it's time you did. Buying refurbished computers and other electronics:
Is better for the planet

Makes it more affordable to upgrade to a model with better specs

Gives you the chance to buy electronics that have been tested and certified

Gives you access to older generation equipment that may meet your needs better than new
Plus, you can choose from new inventory every week at our retail locations in St. Paul and Golden Valley, as well as in our online store.
2. Sustainably Recycling Electronics That Can't Be Refurbished
If the electronics we receive can't be refurbished, we'll recycle them responsibly, ensuring they don't end up in a landfill. As a certified electronics recycler, we've kept more than 40 million pounds of e-waste out of landfills since we began in 2011!
And whether we refurbish or recycle your used electronics, you don't have to worry about your data getting into the wrong hands, as we'll make sure any data on them is destroyed properly.
If you'd like to support Repowered's mission to provide fair chances for people and electronics, while also caring for the planet, browse our electronics recycling and ITAD services, shop for refurbished electronics in our online store or in person at our retail locations, or give us a call at 612-260-9427.