How You Can Support the Repowered Mission This Holiday Season (and Beyond)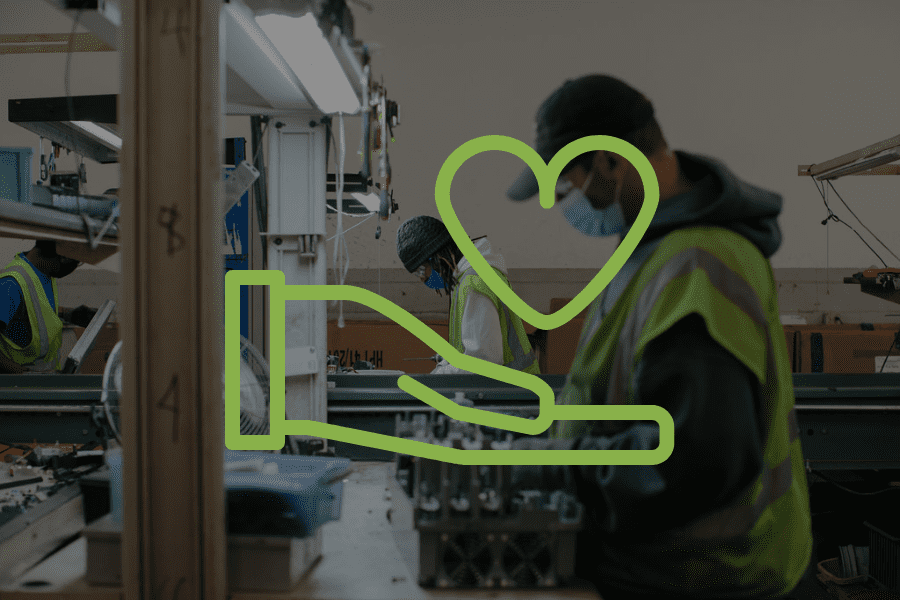 The holiday season is here! Along with the lights, festive music, and quality time with loved ones, this is a season focused on generosity.
During this season of giving we'd like to highlight a few ways you can support the Repowered mission. At Repowered, we work to reduce e-waste in our landfills, advocate for reusing valuable materials, and change the lives of unemployed adults through our job training program. If you value the environmental and social impact of Repowered, consider taking part in one or more of the following this holiday season:
Make a Monetary Donation
Help us power the people who power Repowered by making a monetary donation.
While you can donate to Repowered at any time throughout the year, right now we are specifically looking to raise $15,000 towards mental health support for our team. We began offering therapy to our staff last summer when our Work Readiness Employees (like many of us) were stretched to their limits. Raising these funds will allow us to continue providing culturally-informed individual and group therapy to our team in 2022.
A gift of $100 covers a one-hour therapy session, but gifts of any amount will help us reach our goal of caring for our team's mental health next year. Click here to make a donation.
Consider Working or Volunteering at Repowered
Speaking of our staff, we value each and every person who helps make the Repowered mission possible. If you believe in the work we do, consider joining our growing team as an employee or volunteer! In addition to permanent positions and volunteer opportunities, we also offer an 18-month transitional workforce development program. If you or someone you know are interested in this program or would be a good fit for one of our open positions, consider filling out an application.
You can view our list of current opportunities here and fill out an application or upload your resume right on our website.
Utilize Individual Community Drop Offs 
If you have a growing pile of old cables, computers, printers, or mobile phones at home, drop them off with us for recycling rather than bringing them to a big box retail drop site or a county drop-off facility. With Repowered's commitment to data security, you can rest assured your valuable information will be safe with us. Our electronics recycling process guarantees all data is destroyed properly, and we are R2™ certified, which verifies our strict adherence to secure protocols.
View our drop-off locations, hours, and pricing information here, and don't hesitate to contact us with any questions you may have.
Take Advantage of On-Site Pickups For Your Business
To make electronics recycling as easy as possible, we offer convenient, secure on-site pickup service for your business. And depending on the number of components you recycle with us, you may even qualify for free pickup. Contact us to learn more about our pickup process and to schedule your next pickup!
Host or Attend a Collection Event
In addition to our warehouse drop-off and pickup service, Repowered also holds periodic on-site electronics recycling collection events throughout the Twin Cities metro area. Take a look at our calendar for information about upcoming public collection events.
Interested in hosting a collection event at your business? Whether you choose to use it as an employee perk or part of a customer appreciation event or community-wide initiative, we'd love to partner with you. Contact us to plan your next event.
Consider a Business ITAD Partnership
Repowered can help you create a customized asset management plan that meets your business objectives and keeps your company fully compliant and secure.
We are committed to the highest industry standards for IT asset disposition (ITAD), proud to be NAIDⓇ AAA and R2™ certified. This guarantees that your data will remain confidential and your electronics recycled responsibly. We can also help you recover the most value from IT assets that are not end of life while keeping you compliant with data security and other regulations.
As you upgrade your company's technology, consider partnering with Repowered to properly and responsibly manage your IT assets.
We Appreciate Your Support!
However you choose to support the Repowered mission, we appreciate your contribution. The important work we do wouldn't be possible without the individuals and organizations who partner with us throughout the year.
For more information about any of these opportunities, contact us at 763.432.3117.