More Than Electronics Recycling: A Window Into the Social Impact of Repowered
Did you know that, in addition to the work we do to care for the planet through electronic waste recycling here at Repowered, we also have a social mission?
It's true. Every time you do business with us through residential drop offs, business partnerships, municipal partnerships, hosting events, scheduling pickups, or shopping through our online store, you support our Work Readiness Program.
Through this program, we work with folks who have a history of incarceration and other barriers to employment that make it difficult to find work that pays a living wage.
Read on to learn all about the Work Readiness Program here at Repowered: how it works, what it accomplishes, and what our participants have to say about it.
We Believe Everything and Everyone Has Value
At Repowered, we do the work we do because we believe that everything and everyone has value. It's why we refurbish and recycle electronics, and it's why we created our Work Readiness Program.
Each year, we provide hundreds of thousands of employment hours and nearly a million dollars in wages, plus extensive job training and practical experience for adults facing barriers to employment. Many of the people we work with have experience in the criminal legal system or are in recovery from addiction, and have a difficult time finding living wage employment. Our program aims to open up more opportunities for them.
The Goals of Our Work Readiness Program
Ultimately, our program has three main goals:
Increase the earning power of participants.
Remove barriers to employment, such as transportation, housing, and childcare.
Grow self-efficacy, which is, essentially, hope: the belief that you have some control over your circumstances.
Our hope is that as our crew works through our program, they begin to feel like they can have some say over the things that happen to them, rather than feeling like a cog in the wheel of a system that tells them what they can and can't accomplish.
How Our Program Works
Our program consists of two phases, lasting a total of up to 18 months:
Phase I
The first phase is 90 days (equivalent to about 500 hours of employment). This phase involves a lot of what we call "rebuilding the work muscle."
The folks we work with haven't worked a typical 9-5 job in a while. And while there's a definite structure within incarceration, it's not the same kind of structure a 9-5 job has. So the first few months participants are with us, there's a lot of reacclimating to the 9-5 experience: building time management skills, obtaining base level certifications (such as digital literacy), and so on.
We also pair participants up with our coaches during this phase.
Phase II
The second phase can take up to 15 months.
After the first 90 days, participants can choose whether to pursue outside employment or stay on board with us. Folks who choose to stay continue working with us for the next 15 months within the support structure and environment we provide.
Once someone reaches the 1-year mark (or a little after), we'll start working with them to determine if they're going to stay on with us as a staff employee or look for external employment.
If they decide to look externally, we'll work with them to find employment: we offer help with résumé preparation, interview coaching, and so on to make sure they don't have a lapse in employment.
Stay on top of how we're making change in the lives of those facing barriers to employment by joining our list!
What Our Trainees and Staff Have To Say About the Work Readiness Program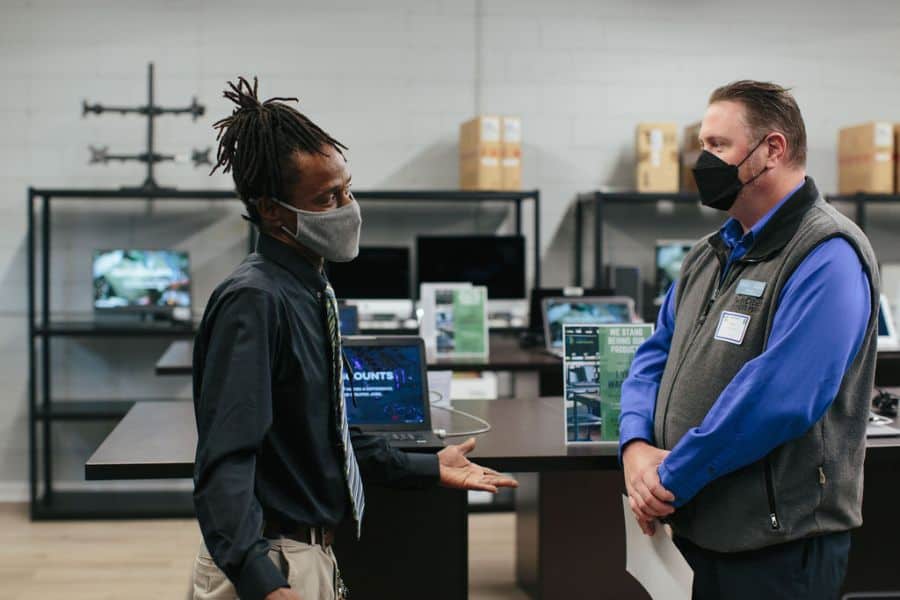 To give you an idea of how many people we work with through this program, here are a few stats from the first half of this year (from Jan 1-Jul 30, 2022):
New Work Readiness hires: 55
Phase I Graduates: 27
Phase II Graduates: 2 (We anticipate 18 more by year's end)
Digital Literacy Certifications earned: 273 (by 60 people)
Digital Literacy Grads*: 28
Digital Literacy Mentors**: 3
*Digital Literacy Grad = Completed six basic requirements of the digital literacy program (currently: basic computer skills, email basics, internet basics, Word, Windows, and one more of their choosing)
**Digital Literacy Mentors = Work Readiness Program mentors who have completed Digital Literacy graduation and who provide one-on-one assistance to their peers.
Here is what a few of our staff and recent grads had to say about their experience with the program:
"
This is my framed tech dump vest with it comes so many memories both good and bad but the thing that I remember the most is that Tech Dump/Repowered opened their arms and welcomed me when nobody else would. This company has encouraged me to do so much in my life and the support is out of this world  I would love to thank you and all of the staff for everything and I hope to continue to be there as much as other's making a change. " – James F., Repowered employee
"Repowered helped me to start over. They encouraged me to take pride in my work and helped me regain the confidence I needed to succeed. I am forever grateful." —Repowered graduate
"People tend to be judgmental—they don't understand why a person put themselves in the position that they're in, they tend to not even give a person a chance to even get to know that person. They look at you like you were just locked up—so you're just an automatic bad guy—instead of sitting down, taking the time to talk to that person and understand where they came from, their lifestyle. Cause you know, I'm one of these people too, meant to break this system. To not fall back into that same category that we just came out of. I hope to prove that you can do anything, anything you set your mind to, as long as you're willing to put forth the effort. Let's use this space to prove to people that we are better than what you perceived us to be." —Repowered Employee
"Repowered has provided me a stable job. Therefore, I can pay for my rent and make ends meet. I don't know what I would do in today's world without having the support of Repowered. Not only are they providing me a stable job, through my work I was able to gain the skills of leadership, adaptability, prioritizing and growth from within myself." —Repowered Employee
As you can see, when you work with Repowered, you help us have an impact on both our planet and the people in our community.
To learn more about how you can support Repowered's mission to provide fair chances for people, the planet, and technology, browse our electronics recycling and ITAD services on our website or give us a call at 612-260-9427.