Wholesale Technology Needs? Here's How We Can Help!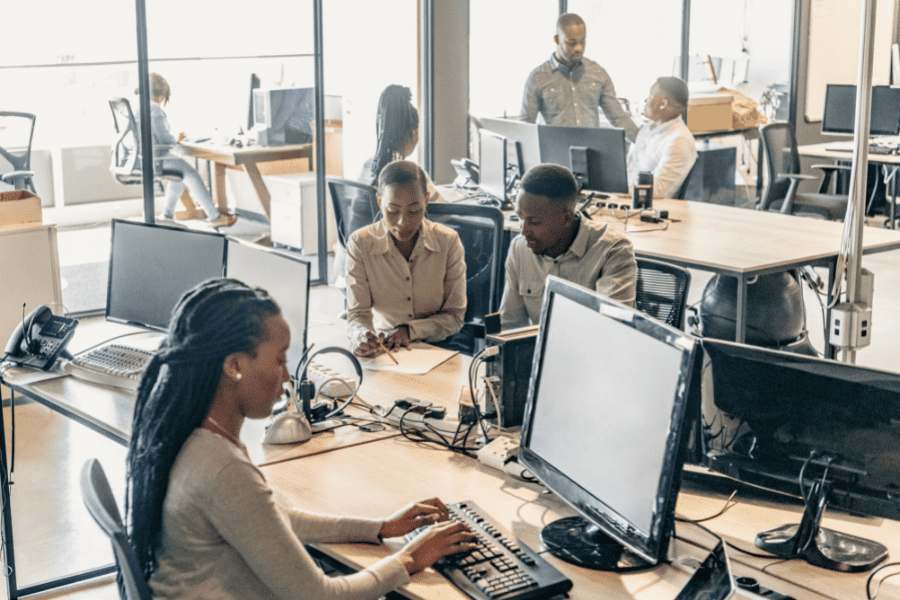 Have you considered meeting your company's wholesale technology needs with refurbished equipment?
Repowered offers quality refurbished electronics with wholesale pricing available for businesses and organizations. You'll find everything from computers to office phones to networking equipment…and much more.
But is refurbished technology really as good as new equipment?
The short answer to that is: Yes (if not better). But let's dig into the reasons why.
Buying refurbished electronics through Repowered gives you the chance to meet your company's technology needs in a way that provides far-reaching benefits to both your business and the environment.
But before we get to those benefits, let's talk about the downside of buying brand new technology.
The Downside of Buying New
When it comes to technology, buying new equipment is almost always the default. From computers and printers to phone systems and networking equipment, it's generally assumed that brand new is best.
But what if we told you it might not be the best option for your business?
There are definite downsides to buying new, including:
Higher Cost
Buying new equipment is almost always more expensive than buying refurbished. And with inflation causing prices to go up on everything from food and fuel to housing and technology, saving money is an especially high priority for most businesses right now.
Supply Chain Issues
Yes, the supply chain issues that have plagued us since 2020 are still a problem. It's expected that product and component availability will continue to be an issue throughout this year at least, especially for items that require semiconductors. Prices of raw materials, components, and finished products are expected to remain high as well.
This has meant long wait times and high prices for organizations buying new electronics.
Uses More Natural Resources
Buying new increases the need for production, which means more mining of the precious metals and other natural resources our electronics are made of. Electronic devices are made up of a mix of high-value elements such as gold, silver, copper, platinum, lithium, and cobalt.
Producing new electronics also increases CO2 emissions as well as energy and fuel consumption.
The Benefits of Buying Refurbished
When you buy refurbished electronics, both your business and the planet receive big benefits:
Cost Effective
The biggest advantage of buying refurbished electronics is certainly the cost savings.
Refurbished technology is much less expensive than new. Depending on what you're in the market for, you'll enjoy discounts of anywhere from 30-70% off retail prices (plus, don't forget that Repowered offers wholesale pricing for businesses)! It's hard to beat those dramatic savings, especially when refurbished equipment is just as reliable as new.
Tested, Certified, and Reliable
If you're hesitant to buy refurbished because of reliability concerns, you might be surprised to learn that refurbished electronics are often more dependable than new ones. This is because refurbished items experience more rigorous testing and retesting procedures than new products do.
At Repowered, all the refurbished items we sell are thoroughly tested by our technicians to ensure they're ready for purchase. Our skilled technicians check for defects and repair or replace all damaged parts, then complete thorough testing to ensure the items are ready to sell.
In addition, all data-bearing devices go through a rigorous wiping process that meets the NIST Standard 800-88 for data wiping, so there is no need to worry about your device containing prior user data. And you don't have to take our word for it—we've been third-party certified to verify our process.
With such comprehensive procedures, refurbished electronics are less likely to have defects or damage, and can be even more reliable than new ones!
Backed by Warranty
Contrary to what you might think, when you buy refurbished, you don't have to give up the protection of a warranty.
We stand behind the reliability of our products, offering a 30-day money-back guarantee on all purchases. All computers also come with a free 1-year fix-it-or-replace-it warranty, which can be extended to 2 years for an extra fee. All other products come with a 90-day store credit warranty.
For more information on Repowered warranties, view our complete warranty policy.
Upgrade to Models With Better Specs
The money you save buying refurbished technology could be enough to allow you to buy models with specifications that would normally be outside your budget.
For instance, when you buy refurbished computers, you may be able to afford more hard drive capacity or more robust CPUs than you could if you bought new models. In fact, you could end up with higher-performing machines at the same (or lower) cost as new ones!
Access to Older Generation Models
When you're in the market for a new device, you may not think of buying an older model as a positive thing. But for many, it is.
When you buy refurbished, you have access to older models that may otherwise be difficult to find. After a while, manufacturers discontinue or limit the supply of older models in preparation for the release of the newest version. If the device model you prefer has been discontinued, you may be able to find a refurbished one.
In addition, older models have been extensively reviewed online, so you can get a more thorough understanding of the pros and cons other users have experienced with that item before you buy.
And sometimes, an older model just meets your needs better than the new, updated version.
Buying refurbished gives you access to a wider range of models than you'd typically find so you can choose the one that best meets your requirements.
Avoid Supply Chain Issues
Another big benefit to buying refurbished? No long waits for shipping.
With the extensive supply chain issues we've experienced worldwide over the past couple of years, buying brand new devices can mean long wait times. When you buy refurbished, you choose from in-stock items—no long waits for overseas shipping.
Better for the Planet
Buying refurbished electronics takes those devices out of the global e-waste stream and gives them a second life.
Manufacturing new electronics uses significant resources. Refurbishing older electronics helps ensure those resources don't go to waste. Not only does this keep these items out of the landfill, it helps reduce excess manufacturing of new electronics and their components.
Choosing refurbished over brand new electronics also helps:
Reduce mining of valuable natural resources used to build electronic devices, such as copper, silver, gold, and nickel
Reduce air pollution created by manufacturing
Reduce carbon emissions created by transporting products
Reusing electronics like this is a great way to care for the environment while keeping your tech up to date.
Meet Your Wholesale Technology Needs With Repowered
When you buy refurbished electronics from Repowered, you'll have a wide variety of brands and models to choose from, including:
Choose from laptops, desktops, monitors, networking equipment, tablets, office phones, and more. And if you don't see what you're looking for today, check back next week—we have new inventory arriving every single week!
Plus, you'll benefit from wholesale pricing for your business or organization.
Our friendly and experienced team can help you find the right equipment for your requirements and budget. Contact us today to talk about how we can meet your company's wholesale technology needs.