Shopping for Electronics This Holiday Season? Think Refurbished Tech Gifts!
Do your loved ones have tech on their wish lists this holiday season?
If so, have you considered buying refurbished instead of new? While you may feel unsure about buying refurbished devices as gifts, shopping refurbished opens up a world of benefits…and not only for your budget.
Read on to learn why refurbished devices make great gifts, and why shopping for refurbished tech gifts should be at the top of your to-do list this holiday season.
Why Shop Refurbished?
Buying refurbished electronics offers a ton of benefits, and not just for your wallet. Here are some of the benefits you'll enjoy when you buy refurbished tech.
Better for the Environment
There's no question that refurbishing used tech is beneficial to the environment. The devices we use every day take a huge amount of resources to manufacture…which all end up sitting in a landfill at the end of their life. Unless they are refurbished.
Refurbishing used electronics helps:
Reduce our reliance on core minerals and plastics
Reduce air and water pollution
Lower your carbon footprint
Fuel a circular economy
Addresses the Growing E-waste Problem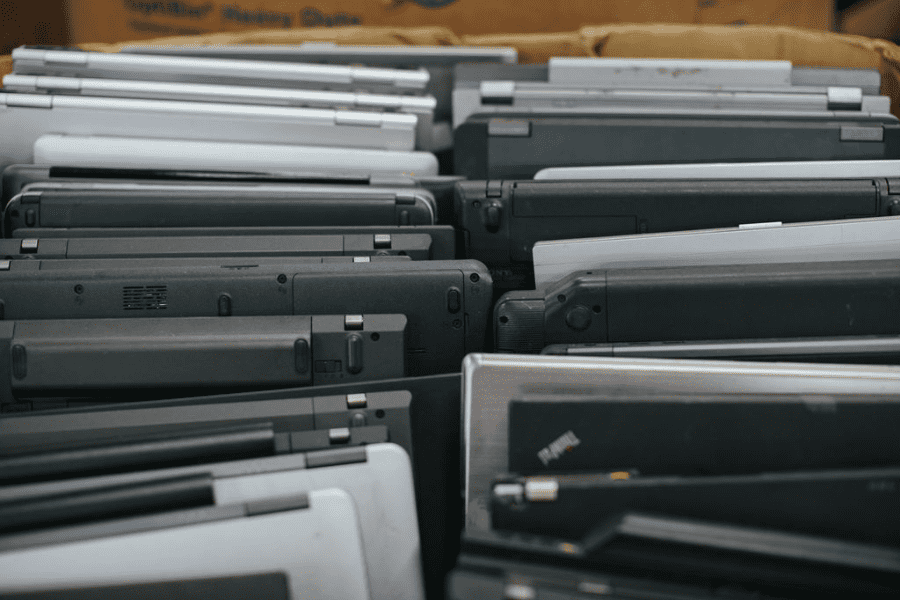 E-waste is the world's fastest-growing waste stream. In 2019 alone, 53.6 million metric tons of e-waste were generated worldwide, up 21 percent over the previous five years. And this number is only expected to grow over the coming years.
Buying refurbished tech helps slow the growth of this waste stream by extending the life of used equipment and keeping both valuable materials and toxic waste out of landfills.
Saves You Money Amid Rising Inflation
If inflation is putting a squeeze on your budget this holiday season, buying refurbished tech can help save you money. Refurbished electronics allow you to buy the tech you need at a lower price, meaning you'll spend less for the same (or better) quality tech and get better value for your money.
Socially Conscious Gifting
When you do your holiday shopping with Repowered, you help power our mission to provide fair chances for people, planet, and technology. For example, every time you shop with us, you support our Work Readiness Program. Through this program, we work with folks who have a history of incarceration and other barriers to employment that make it difficult to find work that pays a living wage.
Learn more about the social impact of Repowered here!
Why Refurbished Tech Makes Great Gifts
Sure, refurbished electronics are great for the environment…but do they really make good gifts?
If you're not sure about giving refurbished tech gifts to your friends and family, consider these reasons why refurbished devices make great gifts.
Reliable
Properly refurbished electronics—like those you'll find at Repowered—are not just cleaned up, repackaged used equipment. All of the tech we sell goes through a thorough refurbishing process to give it new life and ensure it's ready for resale.
Our refurbished electronics are tested and certified before they're listed for sale. In fact, they often go through more rigorous testing than new devices do! As a result, the refurbished tech we sell is just as reliable as new…and often moreso.
Less Expensive
When you buy refurbished, you can get electronics that are just as high quality as new for less money. In many cases, you'll save more than you would buying new tech at Black Friday or Cyber Monday sales!
Plus, when you buy from Repowered, you can skip the trip to the store and shop online (with free shipping!), saving you money at the gas pump as well.
Upgrade to a Model With Better Specs
The money you save buying refurbished technology is often enough that you can afford to buy a model with specifications that would normally be outside your budget.
For instance, when you buy a refurbished computer, you might be able to afford greater hard drive capacity or a more robust CPU than you would if you bought a new model. In fact, you could end up with a higher-performing machine at the same cost as a new one (or lower)!
Find Vintage Items
Have an avid vintage tech collector on your list?
At Repowered, we don't just carry refurbished newer models. We have a great selection of vintage electronics available as well! Choose from vintage computers, video game consoles, and more for the collector in your life.
Because you can often find older generation equipment that has been discontinued, you might be able to find a favorite model that's no longer made. So if there's a specific model that suits your needs better than a new one will, you just might find it here!
Shop Refurbished Tech Gifts With Repowered This Season!
Ready to start checking items off your gift list? Here's everything you need to know to shop with Repowered this season.
Two Ways To Shop
Shopping with Repowered is easy and convenient! Visit one of our retail stores Tues-Sat from 10am-6pm:
Saint Paul
860 Vandalia St
St. Paul, MN 55114
651-350-3764
Golden Valley
825 Boone Avenue N, #100
Golden Valley, MN 55427
763-548-2202
Or, skip the drive and have your gifts shipped to your door! Shop our catalog of computers, mobile phones, gaming consoles, and more in our online store.
Benefits of Shopping Repowered
When you shop with us, not only will you save money on great refurbished tech, you'll benefit from:
A wide selection of computers, tablets, cell phones, audio equipment, gaming consoles, networking equipment, vintage tech, and more!
Fantastic customer service. Our friendly and knowledgeable customer service representatives can help you find the perfect gift for your loved one.
A warranty and guarantee. We offer a 30-Day Money Back Guarantee on all purchases and a free 1-Year Warranty on all computers purchased through our online or retail stores. (Extend your warranty to 2 years for $39.99!) Read our full Warranty and Return Policy here.
Free shipping! When you shop our online store, you'll enjoy free shipping on all orders over $99.
Repairs and upgrades. When your computer needs some TLC, bring it to us for affordable repair services and upgrades.
Whether you choose to shop online or visit one of our retail stores, the team at Repowered would love to help you find great refurbished tech gifts for your friends and family this holiday season.
Happy shopping, and Happy Holidays! ?